Planning your destination wedding in McCall and looking for the perfect photographer to capture it?
---
We are an award-winning McCall wedding photographer team specializing in mountain destination weddings. Love + Adventure is in our name! You've come to the right place to find that perfect photographer to capture your wedding day. We are full-time professional wedding photographers, this isn't our "other" job or something we just do on the weekends.
Let's talk about your McCall wedding venue. One of the most popular destination wedding venues in McCall is Shore Lodge. Is it our clients most requested wedding venue in this area. It's an elegant yet rustic lodge set on the shores of pristine Payette Lake in the alpine resort town of McCall, Idaho. Shore Lodge has been around since1948 and is a truly authentic Idaho experience. Their gorgeous ballrooms overlooking the lake make the perfect wedding ceremony backdrop.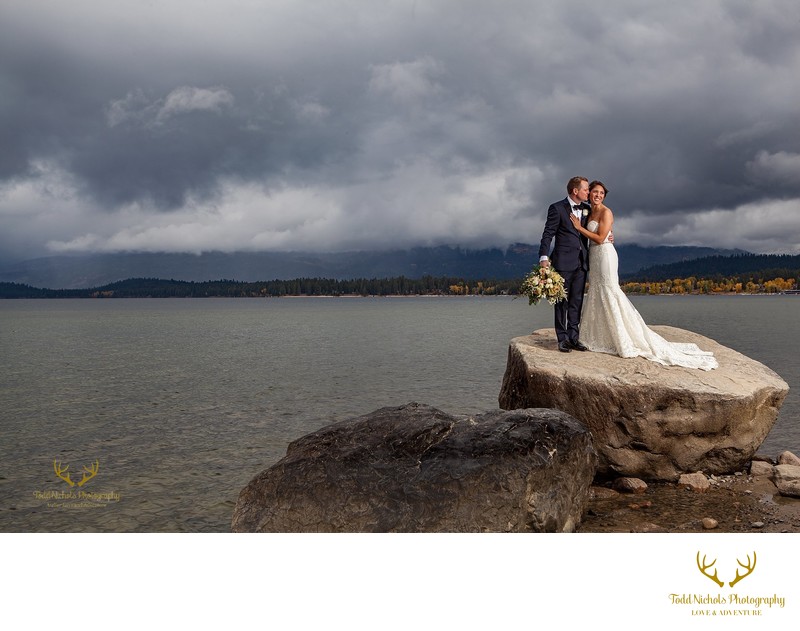 Shore Lodge, McCall Idaho
One of the reasons clients love to hire us to be their McCall wedding photographer for their Shore Lodge wedding is that we understand light and how to get you AND the bright background in the picture. After all, that's why you're getting married here right? You'd probably like to be able to see the beautiful landscape in your wedding pictures that you'll be looking at for the next 100 years! If you're looking for the best wedding photographer in McCall the search is over. Many of the images in our "wedding stories" gallery and "engagement | portraits" gallery are from this beautiful location.
Another perk, as if there aren't enough already, of having your wedding at the Shore Lodge is this gorgeous vintage wooden boat. You can book this for you and your wedding party! Many of our clients appreciate arriving for their ceremony or reception via boat or taking a moment with their sweetheart or wedding party to celebrate in this unique way.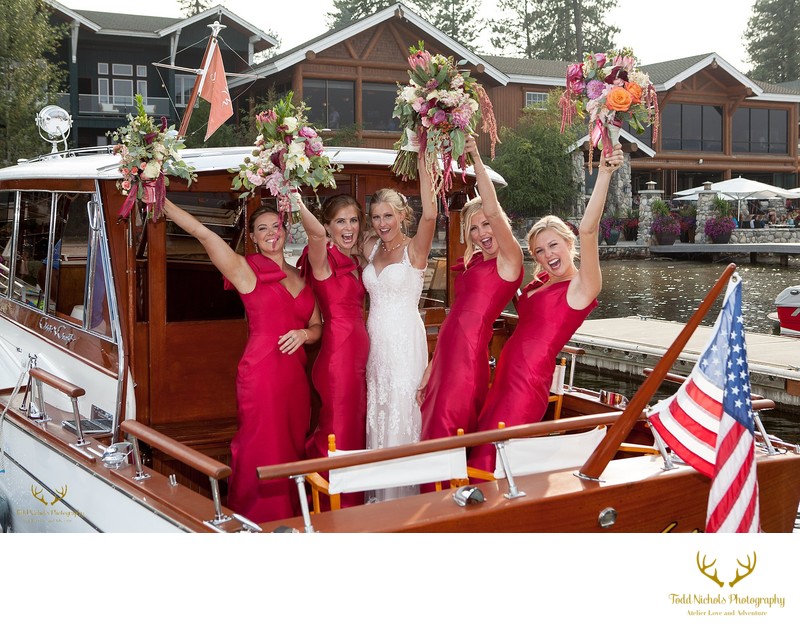 Shore Lodge, McCall Idaho
Brundage Mountain Resort is another popular mountain destination wedding location. It has jaw-dropping views from it's 7,460 ft. summit. It's the perfect summer and fall mountaintop wedding venue. Our clients love the expansive views from the top of the Blue Bird Quad which is itself a unique experience. Of course as a McCall wedding photographer we would take you to one of our our special secret locations for those AH-mazing mountaintop photos you're dying to have.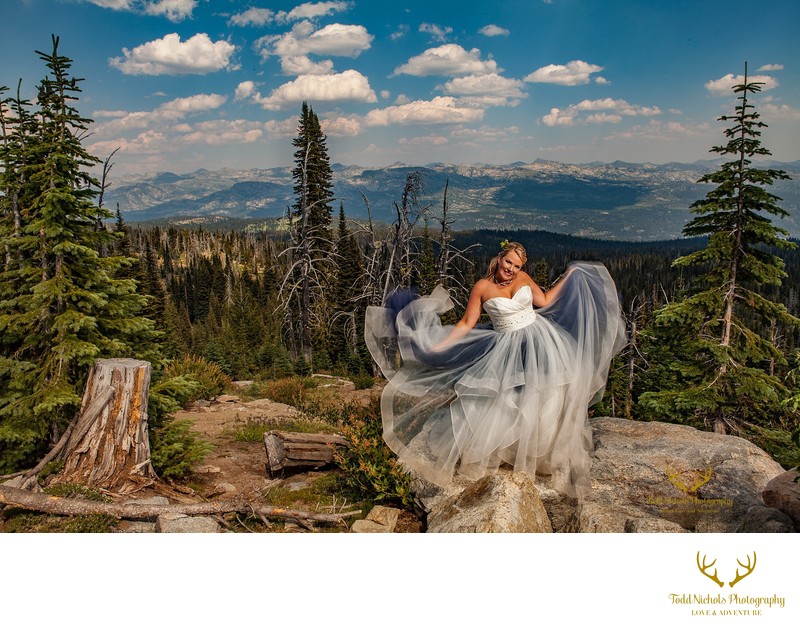 Brundage Mountain, McCall
Blackhawk on the River is another unique McCall wedding venue location that we adore. This venue sits along five miles of the scenic Payette River and is surrounded by a 364 acre wildlife preserve. There is also a luxurious 10,000 sq. ft. lodge and three large guest houses that can be rented nearby for your wedding party and family. The views here along the river are undeniably breathtaking and a wedding here in the fall is particularly beautiful for your wedding pictures.
Blackhawk on the River, McCall
The Tamarack and aspen trees below become a flaming wall of color!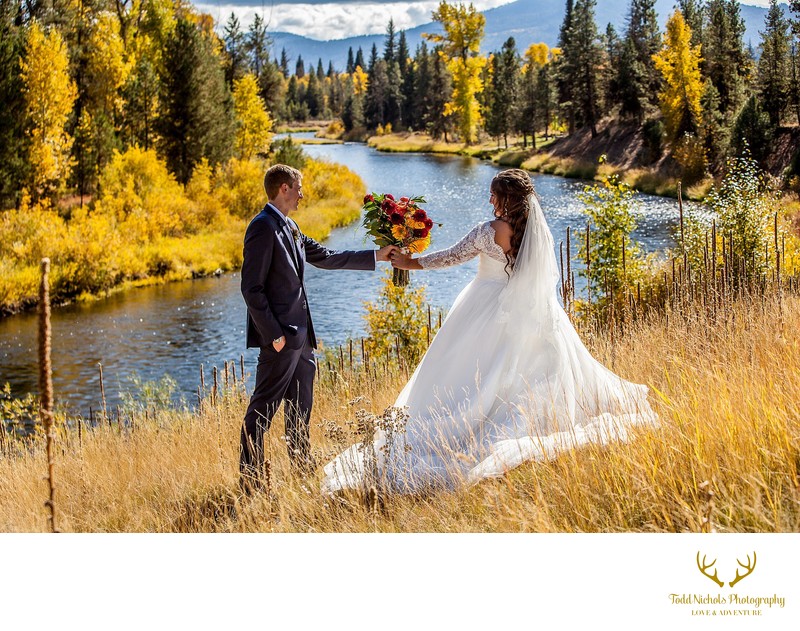 Blackhawk on the River, McCall
Another one of our absolute favorite venues to photograph as a McCall wedding photographer is Tamarack Resort just outside of McCall in Donnelly, ID. With over 10,000 square feet of venue space there is ample room for your ultimate mountain destination wedding. The Osprey Lodge and the chalet's throughout this beautiful ski resort have a very european feel and are perfect to house your family and friends for your event.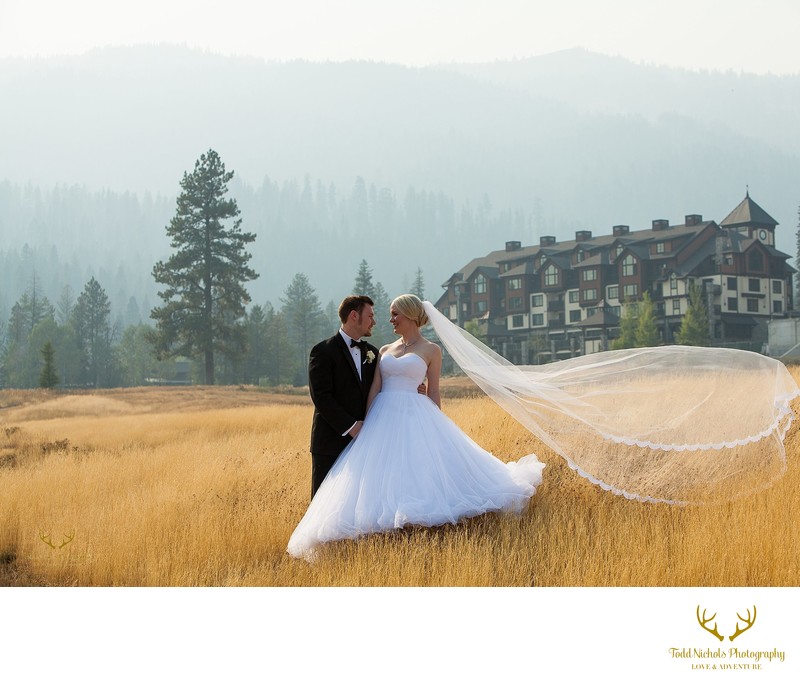 Tamarack Resort, Donnelly
The picture perfect white chapel with turn of the century architecture is just right for your mountain wedding ceremony and the courtyard and grange hall will easily host your wedding reception in picturesque mountain style.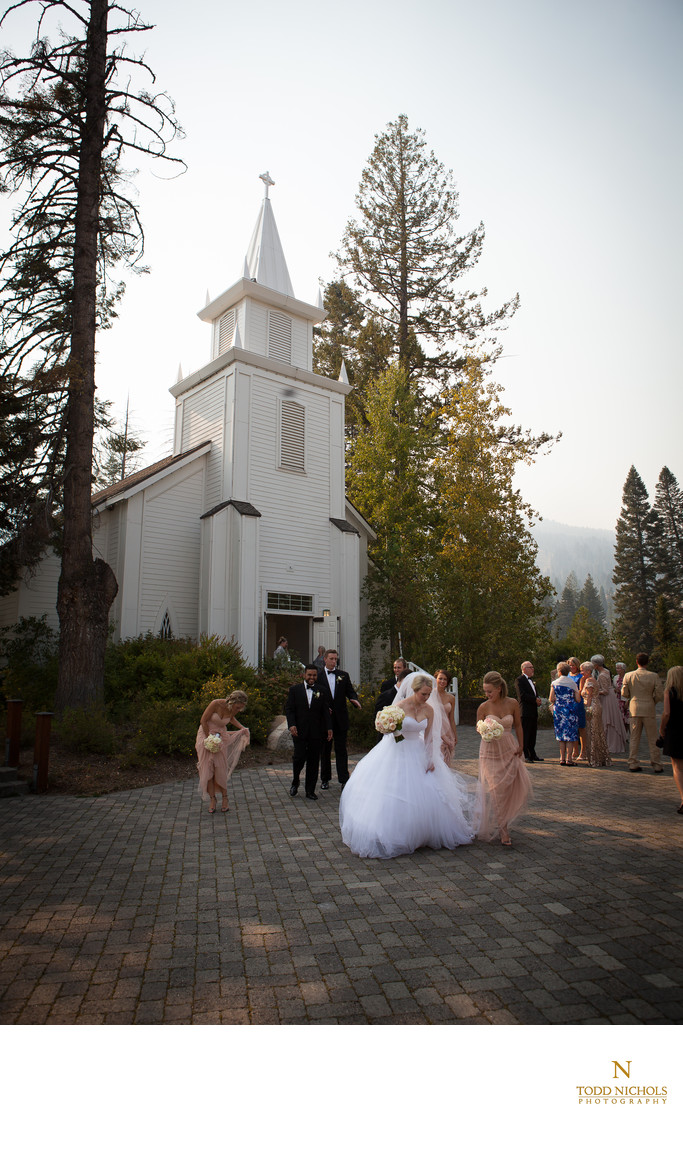 Tamarack Resort, Donnelly
Your mountain destination wedding deserves imagery as unique as your love! We've photographed some of the worlds greatest love stories, let yours be next...