BOISE WEDDINGS
We are Boise wedding photographers. This page gives you just a glimpse of some of the beautiful and varied weddings we have had the honor of photographing in the Boise area. Below is an image from the soaring interior of St. Johns Cathedral. Established in 1906 with impressive pipe organ, myriad stained glass windows and exquisite cathedral dome. It's an impressive ceremony location to behold and to photograph.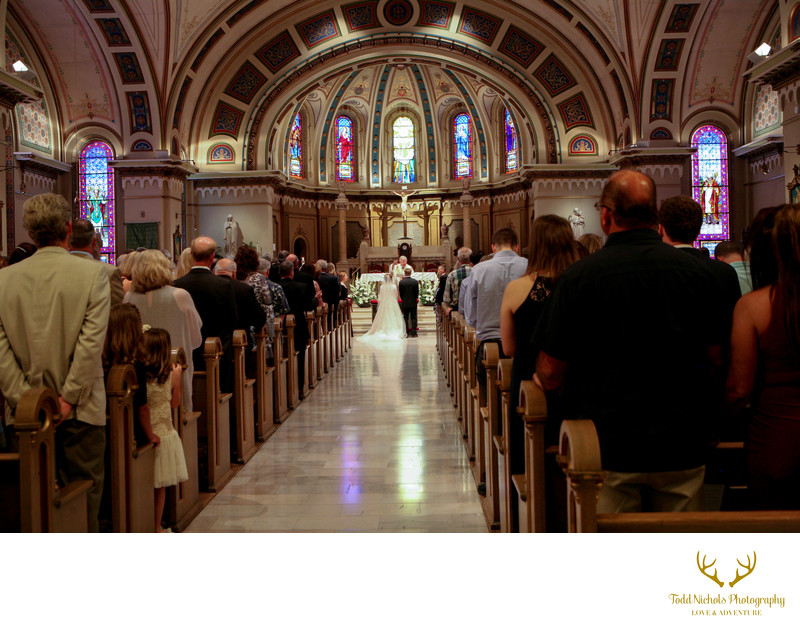 St. Johns Cathedral
When you look through our Wedding gallery page, you'll see all the elements of the wedding day from the anticipation of getting ready to the emotional first look to gorgeous unique details, fabulous wedding ceremony and dramatic receptions! The below image is from Willowbridge event center in Eagle. A short 15 minutes from downtown Boise. This is a private estate, situated on a lake with observation dock overlooking the sandy beach and waters. It is owned by Scentsy Corporation. A truly stunning location with modern indoor space and ample natural light as well as gorgeous outdoor ceremony location on the ample lawn space complete with brides, meandering garden paths, waterfalls and of course gorgeous old Willow trees.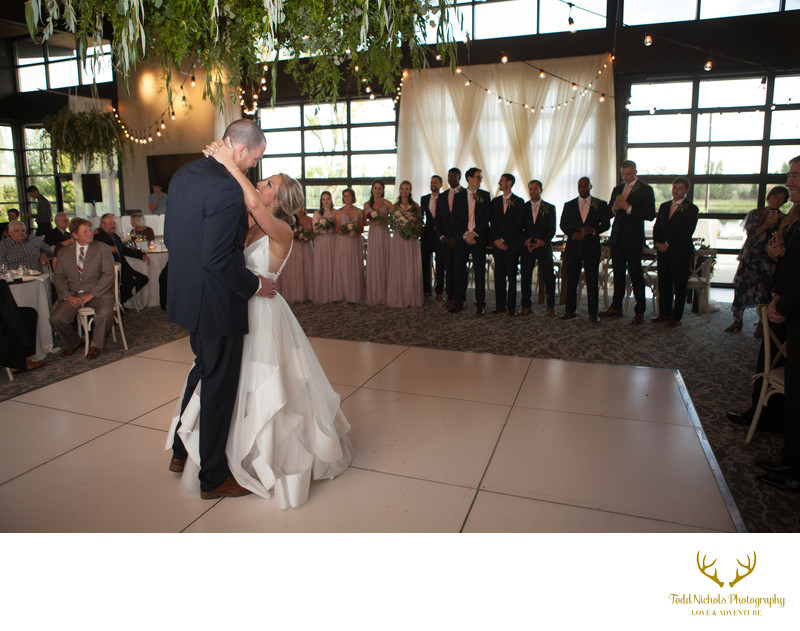 Willowbridge We included so many images in our wedding gallery page because it demonstrates our versatility as wedding photographers. We have been commissioned for weddings and events by NBA champions, models, actors, world famous musicians and entrepreneurs. We've photographed hanging out of helicopters, on ski lift gondolas, on boats in the middle of the ocean, on mountaintops, lakeside, private estates, ballrooms, cathedrals, gardens, city rooftops, we've done it all. Why mention all of this? We think its important that you know we have been in many diverse environments with many different kinds of people and are confident in each one. We want you know trust that we can deliver exactly what we promise.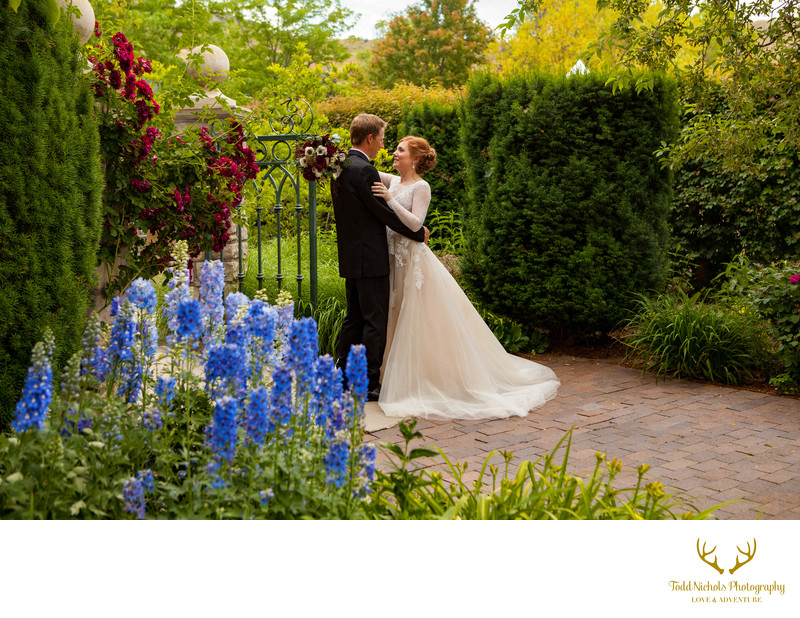 Idaho Botanical Gardens
No matter what the weather is, we've done it. Pouring rain, bright sunshine, Gale force winds, blowing snow, sub zero temperatures, near hurricanes...we've photographed in it! We want you to feel confident that you're working with a Boise wedding photographer professional team that is just as comfortable shooting in bright sunlight next to the lake as a dark cathedral or a sunset vineyard wedding.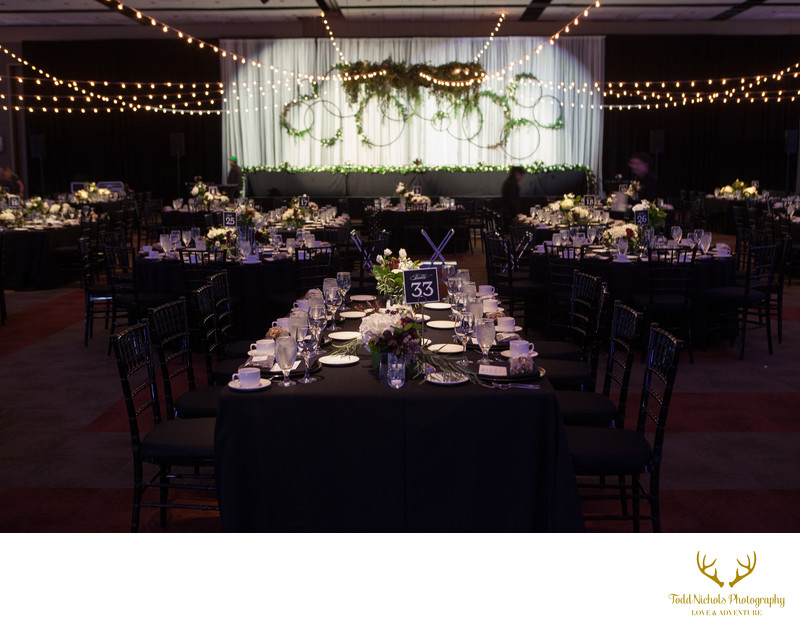 Boise Centre
We hope you'll be able to see the technical expertise with light and creativity in the images. If you're looking for the best wedding photographer in Boise, then Todd Nichols Photography is the clear choice for your wedding photography needs. As a wedding photographer we have the unique opportunity to see gorgeous customs and traditions at the events we document.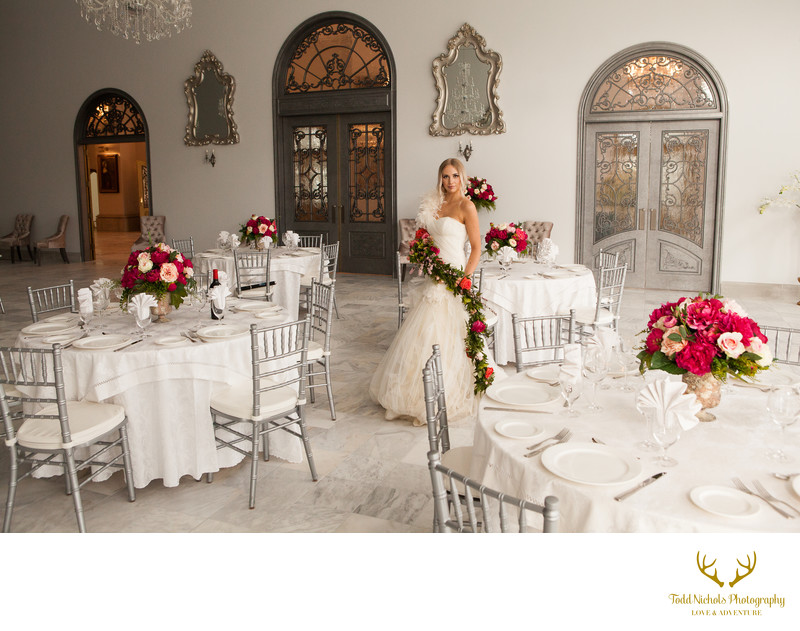 Chateau des Fleurs
From the signing of the Ketubah at a Jewish ceremony to the dramatic tradition and moving emotion at an Indian ceremony, we're honored to document it all. We've photographed glasses being stomped, plates being broken, sand being poured, brooms being jumped over and seen so many fabulous different wedding dances including the hora. It's always a joyful occasion when we can learn about your unique wedding day family traditions.
Another very popular wedding venue is this beautiful outdoor terrace overlooking downtown and the Boise foothills (see below) at the Grove Hotel. The Grove offers a premier collection of services for a truly memorable downtown urban Boise wedding celebration. From the opulent Grand Ballroom to the elegant outdoor terrace overlooking beautiful downtown, this Boise, Idaho wedding venue is perfect for casual to formal black-tie affairs of up to 350 guests. We can fully vouch for their experienced event staff. They will work with you to assure every important detail of your wedding day is perfect. Another bonus, their staff will also help you organize pre-wedding and post-wedding or wedding weekend activities such as golf outings, a bridal party spa day, hot-air balloon ride, wine and brewery tour, or a refreshing float down the Boise River.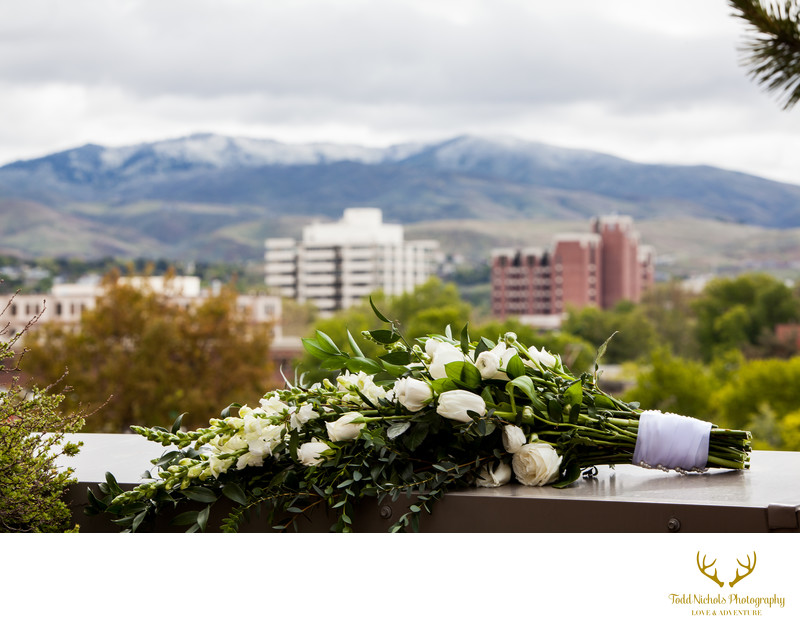 The Grove HotelBoises largest convention center is the Idaho Centre. We've documented large weddings of over 800 people here. The convenient location right in the heart of downtown Boise makes this an attractive wedding venue option for our urban wedding couples. The Centre offers 50,000 + square feet of venue space and can accommodate wedding parties of up to 2,000. Perfect for the large wedding!
One of the most beautiful venues in the Boise area is of course Chateau des Fleurs. It is a full-service wedding venue. Featuring two stunning ballrooms and acres of elegant gardens modeled after the royal gardens in France. This venue is located right behind the Boise River. They host both casual and elegant black-tie events for up to 500 guests. With elegant bridal and groom suites for your wedding day, and competitive pricing that includes sophisticated Chiavari chairs, gorgeous linens and more. We love this wedding venue option for our wedding clients because of the elegant sophistication of the indoor venue as well as immediate access to the beautiful gardens surrounding the Chateau. We enjoy being a Cheateau des Fleur wedding photographer for so many reasons, but these are just a few.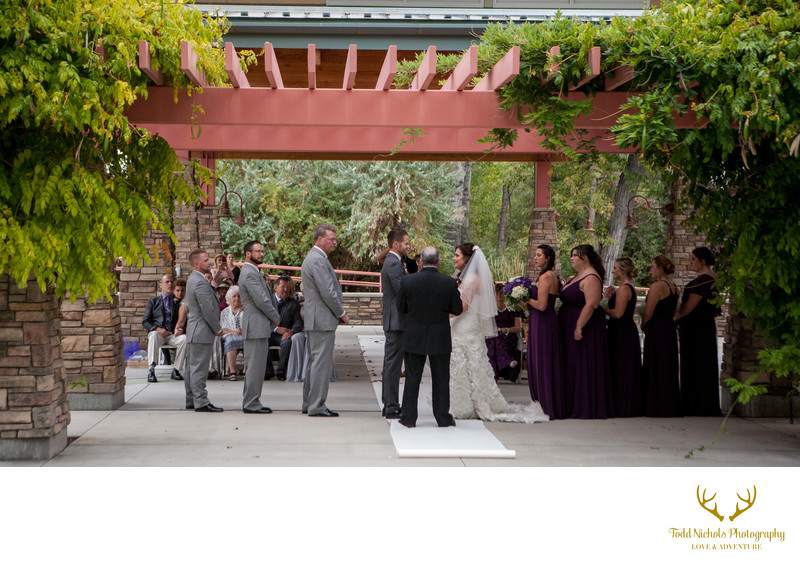 Barber Park Event Center
The Barber Park Event Center offers a fabulous venue that is just a short walk from the Boise river which offers sweeping views of the foothills and a beautiful backdrop for your intimate first look and wedding party pictures. Many of our wedding couples enjoy having their wedding ceremony under the shaded outdoor arbor pictured above and having their first look in the beautiful wooded grove next to the river.
The White Barn at Happy Valley is also one of our wedding couples favorites. The painstaking restoration of this gorgeous white barn is glorious to see. Their antique beams and vaulted ceilings as well as the rustic chic decor is the perfect blend of rustic and elegance for your wedding day. We love the picture drama that can be created with the double grand staircase and the second story hay loft doors that open onto the grand lawn outside. With over 3,000 square feet of space in the loft this space can accommodate most wedding parties. There is over 6,000 square feet of renovated goodness in this original 1920's gem. The bridal suite features exclusive furniture pieces and beautiful décor spacious enough for the whole bridal party. There is a large hair and make-up vanity with mirrors and a dressing area so the wedding party doesn't have to leave the room. Enjoy the Victorian couch and bench with plenty of seating for your guests. Other picture perfect details have been added to ensure your experience is not only stress-free but gorgeous in your pictures.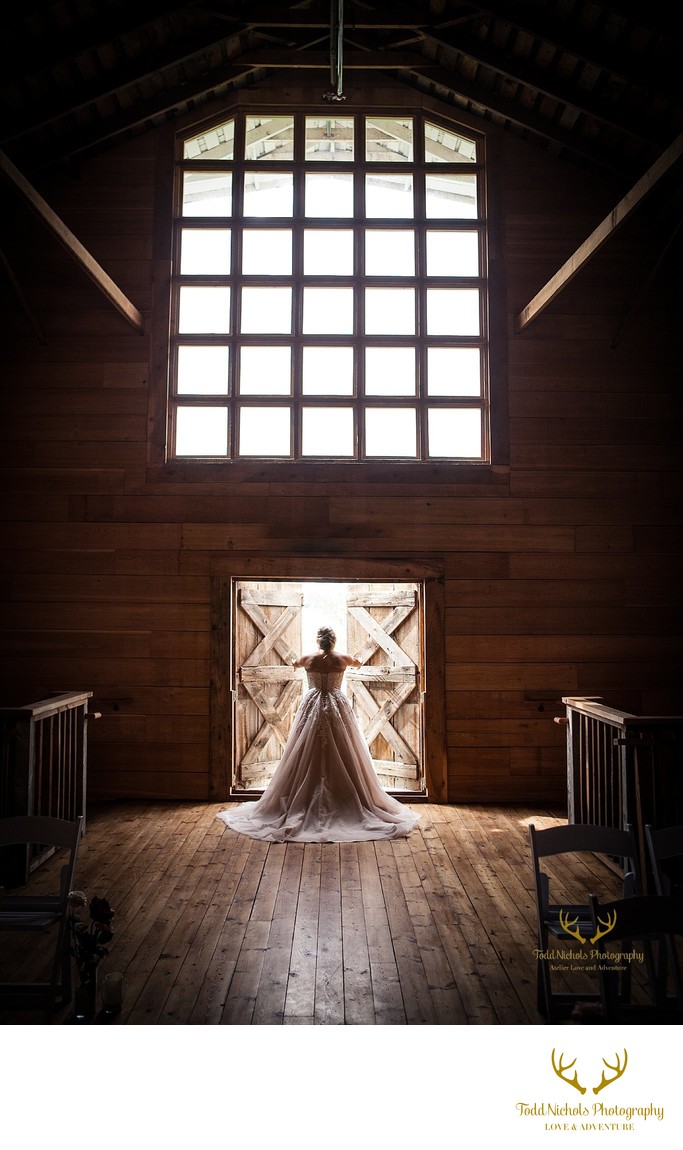 White Barn at Happy Valley