---
Todd Nichols Photography

Defining Fine Art Wedding Photography
---
---
Of all the choices you make for your wedding day, photography is the only one you'll live with for a lifetime and the only thing from your wedding day that increases in value over time. Choose wisely! Experience matters!
---
Our Why
---
Todd: My Grandfather loved photography (thats his old mint condition camera below). That's him below in uniform and my father on the left.
When I was 10 he gave me a camera and told me to take photos of whatever interested me. So, I did, all around my neighborhood and then he and I would develop those pictures in his own darkroom. I was inspired by his passion and the interest and excitement he showed about whatever I took photos of. It was fun to be able to share and create with someone and because of him I developed a keen interest in the camera at a young age.
When I was a teenager, my father was diagnosed with MS. This was a tough thing for him and our whole family as he was extremely active and loved to do things with us. He eventually became wheelchair bound. He wasn't able to participate in my activities, but I found that through photography I could share my experiences with him. It bonded us and I felt that I could share my life with him in this way. It was then that I realized THIS is what I really wanted to do! Tell stories and share experiences through pictures!
---
Julie: I believe you should be celebrated! It's as simple and complex as that.
My mother passed away tragically when I was 2. All I know of her is contained in her wedding album (pictured below) and a handful of pictures. How could my mom have known when she hired her wedding photographer and purchased her wedding album just how priceless those images would be to me and how grateful I am to have them! Her old white wedding album is displayed in our studio. If you happen to come by the gallery, ask me about it and I'll show it to you!
Of course none of us knows how much time we have and how precious each moment is, making it that much more important to celebrate while you can and document with pictures so you and your loved ones can remember always! I know from first hand experience how valuable and important these images will be to you in years to come!
This is the ONLY picture I have of my mother and I together. Imagine how DEARLY I treasure this image!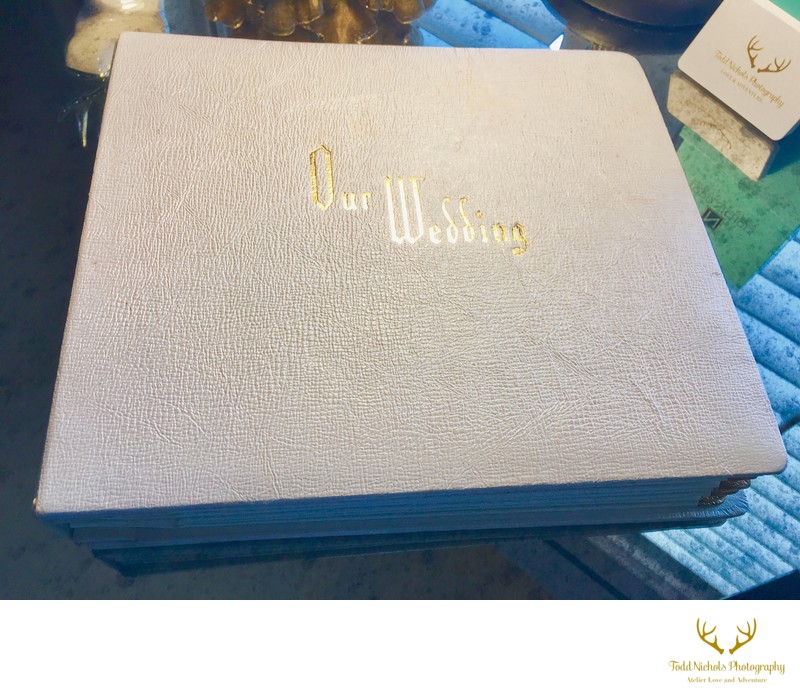 ---
About Our Studio
Our studio was founded in 2004 and we call beautiful Idaho our home. Todd and I travel worldwide as an international award winning photography studio team. Our work has been published in Colin Cowie Lifestyles, Grace Ormonde Wedding Style, The L.A. Times, The Knot, Southern Weddings, Mountainside Bride, Mywedding.com, Applebrides.com, 5Starweddings, Trendy Bride, Wedding Wire and more. Idaho Event Professionals has also awarded us the prestigious Photo of the Year.
Todd's photography experience on both sides of the camera (he's a former fashion model) gives him the unique perspective of understanding how to relax our clients and make them look and feel comfortable and confident in front of the camera.
Julie (my wife and business partner) and I are true people lovers! Our passion for weddings comes from our intense connection with the human spirit which is very much displayed at weddings. We love the pure emotion, the celebration, and the many stories told throughout the wedding day. Regarded for our storytelling images, we approach weddings with a keen, documentary anticipation for those spontaneous moments. Our editorial eye for detail doesn't miss the exquisite decor and details carefully selected by our clients.
We are fortunate to work together as a full-time husband and wife team professional photography team. Julie has her Masters in Business Administration (MBA), and is the second photographer and stylist on location. We have a passion for delivering exceptional customer experiences and an eye for all the details that matter during the shoot. Julie also manages studio operations and overall client experience. We work together to make your experience with our studio comfortable, beautiful and always stylishly classy! This talent combination sets this studio apart where others fall short.
In order to preserve the customer service experience for our clients, we accept only a limited number of clients every season. Inquire today to reserve your date with our studio.
To reserve your photography experience with Todd Nichols Photography call us at (208) 550-1828 or drop us a line at info@toddnichols.com.
---
For Photographers
We enjoy mentoring our fellow growing photographers and conducting workshops for success. Todd's background in photography and his training as a sought-after personal development instructor with Dale Carnegie pairs well with Julie's MBA degree, business experience and eye for style. Inquire for mentoring sessions and upcoming workshop dates.